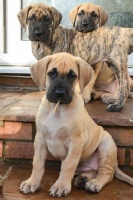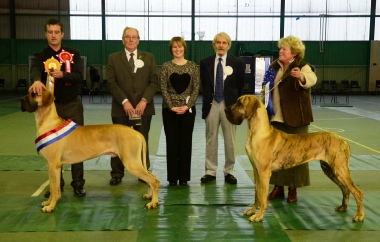 6/3/2011
LISVANE HARLEM SHUFFLE WITH NERAKDANE
Irish Great Dane Club Open Show 6/3/11
At just 6 months and 1 week Troy wins Puppy Dog, Best Puppy In Show and Reserve Best Dog in Show under breed specialist Mrs. Anne Foxwell (GB) Ann Foxwell's critique on Troy winning Best Puppy in Show & Reserve Best Dog, "Lisvane Harlem Shuffle with Nerakdane, Lovely fawn with super head, eye & expression. Well arched neck flowing into correct topline, good depth of chest & front & rear assembly's. Moved with a long free stride & true coming & going, Super temperament. Res Dog & BPIS."
26/11/2011
LISVANE AMERICAN SMOOTH
Great Dane Club of South Wales Championship Show 26/11/11
At 15 months old Hendrix gains his stud book number under breed specialist Judge Mrs Joyce Hindle(Subject to KC approval) He has slowly started to body up and hold his own with the big boys.
25/8/2012
LISVANE HARLEM SHUFFLE WITH NERAKDANE
Karen Fitzgerald……..
"Champion Lisvane Harlem Shuffle with Nerakdane (subject to IKC) OMG Thank you to Ms E Feuz (Switzerand) for making Troy up and giving him BOB, the cheers and the photographs were very appreciated and I stunned Paul Magee by jumping 6 feet in the air and nearly landing on the Judge's shoulders. Thank you to Clare and Lorraine for the Bubbly hic hic, and to Annmaire for the special rosette, what a great bunch you are. Photos to follow. Biggest thanks has to go to Sandy, you know what he means to me xxxxxxxxxxxxxxxxxxxxxxxxxxxxxxxxxxxxxxxxxxxxxxxxxxxxxxxxx"
My darling Troy is now an Irish champion( subject to IKC confirmation). Thank you Karen for loving this boy and campaigning him up & down the country to achieve such success.
25/6/2012
LISVANE CALYPSO aka Denzil
Not to be outdone…Darling Denzil (adored by his Ma & Pa Jan & Roy Giles) Was placed 1st at a local show in Scotland & had a lovely red rosette. Another good looking boy with a lovely personality & a fabulous family.
Such a clever boy xxxxx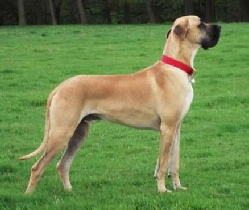 21/10/2012 Hendrix dad Ch. Jaydania Fred Astaire JW is Dane of the Year 2012. Well done Sue Bishton and the Jaydania team. We are all so proud of Fred.xx
Ch. Jaydania Fred Astaire JW
17/5/2013 Great thanks to Judge Mr Clive Lunt for awarding Troy his 1st UK CC & BOB at the Scottish Kennel Club Champion Show 17/5/2013
Well done to Irish Champion Lisvane Harlem Shuffle with Nerakdane aka Troy owned and adored by Karen Fitzgerald, who is now Celtic Winner 2013, thanks to Rose Dooley for handling him.
3/3/2013 Lisvane American Smooth aka Hendrix placed 1st in SOF at the Northern Great Dane club championship show. Huge thanks to judge Sheena Booth.
8/6/2013 Lisvane Burlesque aka Ola, began her show career qualifying for Crufts at her very first show. Great thanks to judge Helen Hankins for awarding Ola Best Puppy in Breed at Three Counties Championship show 8/6/2013.
Her critique by Judge Mrs Helen Hankins:- MPB (9) 1 Lipman's Lisvane Burlesque, beautiful 6 months brindle baby, caught my eye as soon as she entered the ring. Lovely strong head with good length of foreface, well balanced with good overall conformation, good angulations, plenty of bone to grow into. Goodmover, has a great presence & look of dash & dare, quite an impressive baby! BP
13/7/2013 Lisvane Burlesque aka Ola, BPB at National Working & Pastoral Breeds soc. Many thanks to judge Steve Bell for awarding Ola Best Puppy Bitch
Her critique by Judge Mr Steve Bell:- Class 445. M.P Bitch. Entries 5 Absent 0
1st Lipman's, Lisvane Burlesque, Brindle, She is a quality young baby with a well made head, correct ears, and good length of neck, going into well placed shoulders, good top line for one so young, a good width in stifle, and correct angulation, moved well. Best PB winner.
21/8/2013 Lisvane Burlesque aka Ola, WPG1 awarded by judge Mr Ray McDonald(Roanjora) and then Reserve Best Puppy in Show awarded by BIS Judge Mr Ken Andrew(Bridgend) at the Vale of Glamorgan Agricultural Show.
Fabulous day… fabulous company…fabulous judges….
16/11/2013 Tragically Troy, our Irish Champion Lisvane Harlem Shuffle with Nerakdane CW'13, owned and adored by Karen Fitzgerald, suffered a fatal accident on Sat 16th November 2013. He made the world a better place with his gentle demeanour and ever wagging tail. Run free handsome Troy boy xxx
2015 Ola became Best Brindle Bitch 2015 and attended the prestigious League finals
Ola at Crufts
Photos taken by Hilary Baker Preveli photography
2014 Ola 'Lisvane Burlesque' was awarded Best Brindle bitch by judge Mr Jon Crossley and then went on to be Best Bitch in show and BOS at the Midland & West of England GDC 2014 Colour Format show under judge Mr Vic Salt. Ola handled by Mrs Audrey Haigh
This photo taken by Ian Raper 'Photocall
photo taken by Ian Raper 'Photocall
2018 Pasha was seen countrywide on the findandfundmycar.com advert Such a star
https://findandfundmycar.com/articles/best-car-ads-of-2018-so-far
2019 Pasha sires a 'Crazy' litter……