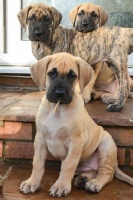 Breeder: Mr Owen Greechan
Stud book no: 2386CQ
28/11/02 - 26/5/2011
Dam: Kuccara Mist O'Morn at Myhalston
Sire: Champion Turlum Trail Blazer to Garsak
Our house is quiet without our big boy telling us 'it's time for food'. The other dogs are missing him and we are all slowly getting used to the fact that Duffy is now only a memory. Sleep tight Duffy darling.
The biggest thank you to Owen Greechan (top breeder 2006/2007) for allowing us to be owned by this special little man. We were so proud of Duffys litter brother 'Champion Myhalston Mr Malachi', Top Dane2006/2007, Multi BIS & RBIS and ending 2007 as one of the TOP TEN DOGS in ALL breeds and ALL TIME BREED RECORD HOLDER who sadly left us all 10/10/2009. 2008 saw the loss of their litter sister 'Champion Myhalston Miss Kiarra'. Their mother 'Kuccara Mist O' Morn at Myhalston' aka Nala was top brood bitch 2004/5/6 and 2007 the foundation in producing such fabulously successful litters.
Duffy was very successful in the show ring gaining his stud book number in 2005 and being invited to take part in the 'top 12'. Duffy was awarded the DCC at National Working and Pastoral Breeds Dog Society Ch Show July 15th 2006 under Judge Mr Clive A Lunt
Duffy sired four beautiful litters, was terribly spoiled and was a big mummys boy. He loved his teddys and found it very traumatic when they had to go in the washing machine. How lucky we were to have such a handsome boy.
2010 was Duffy chance for stardom. He appeared in the Welsh language soap Pobol Y Cwm on BBC Cymru. Luckily he didn't have a speaking part but lapped up the attention and behaved impeccably
MYHALSTON MR MCGREGOR OF LISVANE aka DUFFY