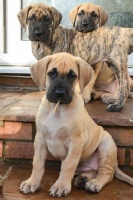 The most important link Great Dane Care re-homing & rescue Please give a donation if you are able and maybe you have a place in front of your fire just waiting for a loving great dane.
The fleet of taxis kindly donated by Sharyn Donnachie, one of the Directors of Cardiff based Capital Cabs.
Liz & Gordon Davies, Toby, Bubble & Tiffany (our models for the ad.) with Sharyn in the drivers seat.